What Is HubSpot CRM? | Overview, Features, And Pricing
What Is HubSpot CRM? | Overview, Features, And Pricing
HubSpot CRM is one of the leading customer relationship management software for salespeople today. Keep reading for our review of this CRM software created by HubSpot, one of the industry's leading marketing and sales experts.
RELATED: 9 Best Sales Software Systems for Your Business
In this article:
What Is HubSpot CRM? | CRM Software Review
Customer Relationship Management (CRM) Definition: A part of the sales process that involves tasks related to anything that has to do with the maintenance and management of the relationship between a business and its customers.
Overall Look at HubSpot CRM
HubSpot's CRM markets itself as software that automates menial tasks salespeople have to do daily. From following up on potential customers to keeping track of your sales funnel, HubSpot CRM provides a single interface for all of these tasks.
The most significant appeal of the software is the fact that it's free and you get an unlimited number of contacts with it. However, users don't only have those benefits to gain from using HubSpot CRM.
Here are some of the features of the software that make it stand out from the rest.
Benefits
Unlimited Contacts — Users can add unlimited contacts at no cost.
Consolidated Interface — The software has a consolidated interface for both sales and marketing processes.
User-Friendly — Easy-to-use and intuitive setup, which is ideal for people with no computer science background.
Software Integration — HubSpot CRM can integrate a lot of applications or programs you already use into the interface. For example, Dropbox, Pipedrive CRM, or even your website.
Sales Pipeline Tracking — Tracks and manages every element within your sales pipeline.
Identify Sales Locations — It helps identify where the sale happens, such as via email or through social media.
Ideal for Smaller Organizations or Startups — Excellent CRM for businesses with a tight budget
Automates Organizational Tasks — It automates some organizational tasks, such as scheduling and providing notifications of prospect interactions
Manage Content Better — Includes features to help you manage your content
Task Management Feature — It includes a task management feature that helps remind you of your daily tasks automatically. Additionally, HubSpot CRM also makes it easier to assign tasks to specific people as well.
Specifications
There are certain features of CRM software every person should look for and expect. After all, these features either receive constant use or are features that address standard tasks or issues in sales operations.
Below are the specifications all CRM software should ideally have. Let's see how HubSpot CRM measures against them.
Feature
Available on HubSpot CRM?
Description
Availability on Mobile

Yes

HubSpot CRM has a mobile app. Thus, you can monitor your tasks through your phone easily.

Simplistic Setup

Yes

HubSpot CRM has a sleek and clean interface that is drag-and-drop. Hence, it is easier to integrate into the sales team's current work processes.

Syncs Your Contacts
Yes

If you are tired of having your contacts in different places and want them all in one place, then this software is best for you. It syncs all your contacts in one very convenient location.

Creates Custom Reports
Yes

With Smart Lists, users can generate their own custom reports on the software itself.

Customer Support
Yes, but limited on the free version

Due to the fact that the software is free, there will be certain features unavailable to you. Although you have to pay to get customer support, there is a

helpdesk resource

to check out.

Multi-lingual Support
No

As of the moment, this software only supports English.

Supports All Business Sizes
Yes

This software can be operated by businesses of all sizes: small, medium, and large. However, it is noteworthy just how effective it is for small companies and even freelancers.

Social Media Integration
Yes

Given the importance of social media for sales and marketing, this software also has this capability under its belt.

Multiple Deployment Channels
No

As of the moment, HubSpot CRM is only deployed via cloud only.
Although the list of specifications above is indeed crucial, it's essential to consider your organization's needs first to find out which specs you really need.
RELATED: 15 Sales Management Software and CRMs Used by Sales Teams
HubSpot CRM Pricing
Technically, HubSpot CRM is a free software open for anyone to install and use. However, while this is the case, it also has other pricing plans for organizations looking for more advanced features. Here are the pricing plans for HubSpot CRM:
Free — Free, with limited features
Starter: $50/month
Basic: $200/month
Professional: $800/month
Enterprise: $2,400/month
If you plan on purchasing a plan, you'll have to contact customer support via phone and email. Aside from that, you'll also get access to more advanced features in the software.
However, it really depends on your organization's needs since a lot of the features essential to customer relationship management are already in the free version of the software.
HubSpot CRM Reviews
Most of the customer reviews on HubSpot CRM are positive. In their comments, users have cited the features of the software they like most.
Commonly liked features of the software include its email tracking and automation capabilities. Also, the task management feature is a big hit amongst users.
A few customers have major gripes about the software. One of the most common downsides of the software that people bring up is the costliness of upgrading from a free account.
However, they are mostly satisfied with it, and plenty of people are open to recommending it for others to use. Here are some of the customer reviews of HubSpot CRM from Software Advice:
Hubspot Tiers
Is HubSpot Free? Hubspot's CRM is really free for an unlimited amount of users.
If you're a business that's just starting out and wanted to place a relationship management workflow that can scale up, then the CRM software will be just enough for you. The free tier alone is already full of useful features, but if you need some of the more advanced features, you can then look into some of its paid plans.
The Hubspot platform is divided into different "hubs," which have different pricing schemes depending on where you want to focus.
Marketing Hub
Hubspot's Marketing Hub is a plan intended to give marketing teams what they need to get a lead and turn them into a customer.
Pricing Tiers:
Starter (starts at $50/month, includes 1,000 contacts) – All HubSpot CRM features, plus tools that allow you to capture, understand, and engage your leads.

Highlights: Ad Management, Live Chat, Conversational Bots, Forms, Pop-Up Forms, Contact Website Activity, List Segmentation, Email Marketing, Ad Retargeting

Professional (starts at $800/month, includes 1,000 contacts) – All Starter features, plus tools that automate your marketing, enhance your brand's presence, and increase conversion and revenue.

Highlights: Marketing Automation, Smart Content, Blog and Content Creation Tools, Search Engine Optimization (SEO) and Content Strategy, Social Media, A/B Testing, Landing Pages, Calls-to-Action, Video Hosting and Management, Website Traffic Analytics, Campaign Reporting, Attribution Reporting, Custom Reporting

Enterprise (starts at $3,200/month, includes 10,000 contacts) – All Professional features, plus features that allow you to easily manage your team and make sense of your data.

Highlights: Content Partitioning, Hierarchical Teams, Single Sign-On, Social Permissions, Additional Domains, Email Send Frequency Cap, Calculated Properties, Content Management System (CMS), Filtered Analytics View, Events API
Sales Hub
The Sales Hub is what you would want if you need some advanced CRM features. This plan contains what you need if you want to quickly close deals.
Pricing Tiers:
Starter (starts at $50/month, includes 1 user) – All HubSpot CRM features, plus features that track your prospects and keep your sales pipeline humming.

Highlights: Email Tracking and Notifications, Email Sequences, Calling

Professional (starts at $400/month, includes 5 users) – All Starter features, plus features that easily automate and personalize your sales process as it scales up.

Highlights: Deal Stage, Task, and Lead Rotation Automation, Workflow Extensions, 1:1 Video Creation, Sequence Queues, Quotes, Products, Teams, Salesforce CRM Integration, Multiple Currencies, Required Fields

Enterprise (starts at $1,200/month, includes 10 users) – All Professional features, plus the ability to coach other sales reps with the best practices so you can close deals much faster.

Highlights: Playbooks, Goals, Call Transcription, Calculated Properties, Predictive Lead Scoring, Quote-Based Workflows, eSignature, Recurring Revenue Tracking, User Roles, Single Sign-On
Service Hub
If you aim to use HubSpot as your customer support management software, the Service Hub is just for you.
Pricing Tiers:
Starter (starts at $50/month, includes 1 user) – All HubSpot CRM features, plus features that track your customer communications and better measure your efficiency and productivity.

Highlights: Ticketing, Live Chat, Conversations Inbox, Calling, Conversational Bots, Team Emails

Professional (starts at $400/month, includes 5 users) – All Starter features, plus features that allow customers to be independent and improve their experience.

Highlights: Ticket Status, Ticket Routing, Task Automation, Multiple Ticket Pipelines, Knowledge Base, Video Hosting and Management, Custom Reporting, NPS Surveys, Customer Experience Surveys, Customer Support Surveys, Insights Dashboard

Enterprise (starts at $1,200/month, includes 10 users) – All Professional features, plus the ability to manage multiple teams and self-serve whatever data your team needs.

Highlights: Playbooks, Goals, Hierarchical Teams, User Roles, Single Sign-On, Slack Integration, Calculated Properties, Webhooks
Growth Suite
For those who use a bit of everything, HubSpot has its own bundle called the Growth Suite. This bundle combines all three hubs for a price lower than buying each hub individually.
Pricing Tiers:
Starter (starts at $113/month) – HubSpot CRM, plus Starter versions of Marketing Hub, Sales Hub, and Service Hub
Professional (starts at $1, 200/month) – HubSpot CRM, plus Professional versions of Marketing Hub, Sales Hub, and Service Hub
Enterprise (starts at $4,200/month) – HubSpot CRM, plus Enterprise versions of Marketing Hub, Sales Hub, and Service Hub
Overall, HubSpot CRM proves itself to be deserving of the acclaim that it has. With its easy-to-use drag-and-drop feature and effective lead generation, it is no wonder this CRM software is a top contender in the industry.
Plus, it's great for businesses with a limited budget too! With all of these useful features, this makes it a great candidate if you're in the market for a basic CRM software.
Have we covered everything there is to know about HubSpot CRM? Leave a comment below to let us know!
Up Next: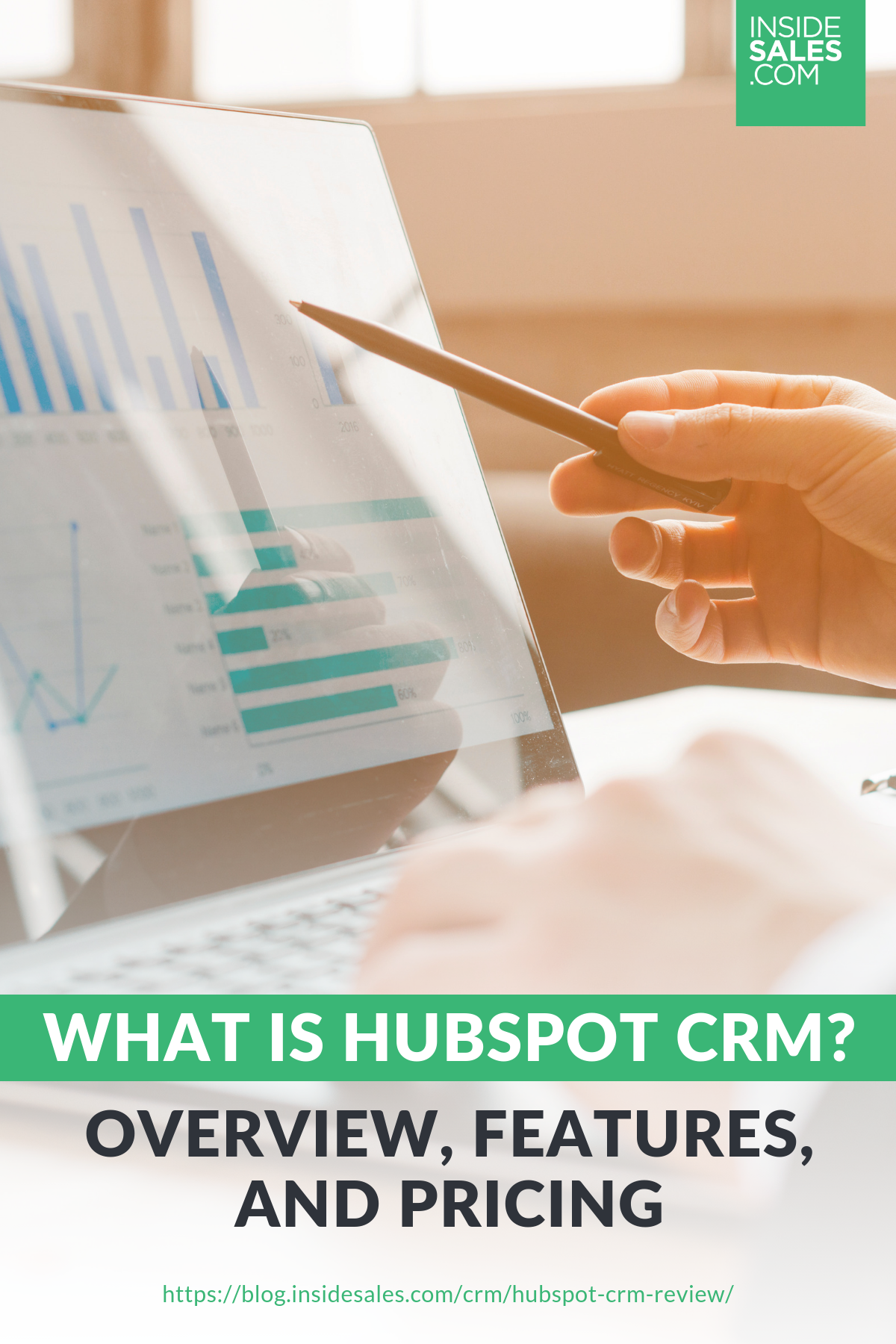 Editor's Note: This post was originally published on May 7, 2019, and has been updated for quality and relevancy. 
The post What Is HubSpot CRM? | Overview, Features, And Pricing appeared first on InsideSales.